Around the World Sailing alone[Bohemian]
You are the th visitor !!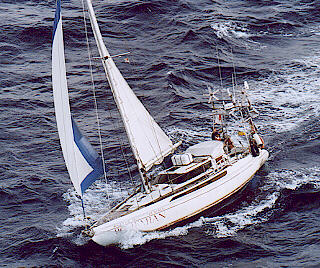 Sailing around the World!!
Now,the BOHEMIAN 2 is about to arrive at the last distination!!
Photograph is presented by Yomiuri NewsPaper Company
Date:05/28/1992 4:35 p.m.
Place:90mile South from Shionomisaki
Nature is wonderful in harmony.
Don't against the nature, that is my partner.
Nature gives me courage and wise.
Ocean is my friend and teacher.


CONTENTS

Please mail to watanabe@bohemian3.com

**Be careful of the mail which a transmitting person name & matter name is not
in because it is destroyed without opening it because a virus is scared.
**

Copyright 1996, Tatsuyo Watanabe, Nagoya, Japan. All rights reserved.